Are you looking for Best Amazon PPC Software tool? You've landed in the right place because I have prepared a list of the best Amazon PPC software just for you.
An Amazon PPC software automates your brand and product through an advertising campaign. The software sponsors ads for your product so that Amazon shoppers can easily find your product. This way, you can increase your sales and also save your time & money. There are many PPC tools in the market that can help you find your target audience.
In this post, I have listed a hand-picked list of the Best Amazon PPC Software that is available in the market.
Let's get started with Best Amazon PPC Software.
10 Best Amazon PPC Software (2023) 
So, here's my list of the top ten Best Amazon PPC Software 
Sr. No.
Best Amazon PPC Software
Pricing
1.
Helium 10
Starts at $99/mo
2.
Seller.Tools
Starts at $117/mo
3.
Sellics
Starts at $259/mo
4.
Zon.Tools
Starts at $9/mo
5.
Ad Badger
Starts at $107 (Free Trail available)
6.
Kinetic PPC Tool By Viral Launch
Starts at $199/mo
7.
SellerApp
Starts at $39/mo (7 days Free Trail available)
8.
Teikametrics
3% of monthly spend ads on Amazon
$0.30 per tracked on market intelligence.
9.
PPC Scope
Starts at $19.99/mo
10.
Downstream
Request a demo or Contact the Sales Team
1. Helium 10
Well, if you want to have an insider's view into Helium 10, check my in-depth Helium 10 Review here.
First in our list for Best Amazon PPC Software is Helium 10. It is an amazing all-in-one platform that hosts multiple tools to help Amazon sellers. They offer tools to help beginners take the necessary steps to start their journey as a seller and professionals to boost their sales.
Recently, Helium 10 launched a new Amazon PPC software known as Adtomic. Now, Amazon sellers can handle complex PPC campaigns with ease. Adtomic's PPC campaign strategies are based on professional Amazon sellers. That's why it gives you top-level organic markers and better visibility into your PPC data.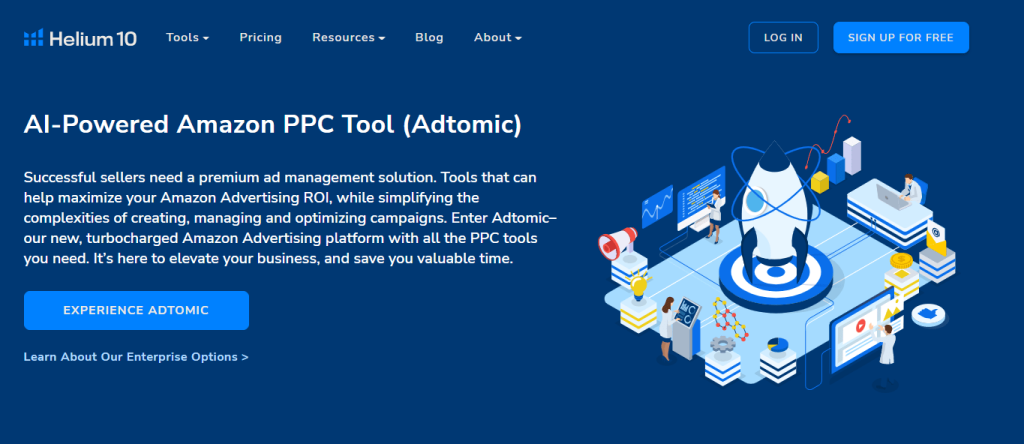 Adtomic offers you some AI features such as precise keyword bidding, which saves you the time you spend hours in keyword research. You will also find a variety of templates that will help you build your PPC campaigns within minutes.
Helium 10 Pricing:
Adtomic is available with Helium 10's Platinum, Diamond, and Elite plans. 
Platinum: $99/month or $999/year
Diamond: $249/month or $2499/year
Elite: $399/month
If you're thinking Helium 10 is right for you then save up to 50% with our exclusive Helium 10 coupon codes here.
2. Seller.Tools
Seller.Tools is also an all-in-one platform, just like Helium 10. Amazon PPC is one of its features. The company mainly focuses on automating your workflow by automating your ad scheduling and bid management.
It has a sophisticated keyword research tool that helps you find relevant keywords to add to your PPC campaigns. The software not only identifies your top-performing keywords but also finds the worst-performing keywords so you can use them for negative targeting.
Seller.Tools have an Amazon PPC profitability calculator that targets primary profit points so you can use it to make intelligent decisions.
Seller.Tools Pricing:
The Amazon PPC features are available in Seller.Tools' Starter and Growth plans. 
Starter: $117/month
Growth: $357/month
3. Sellics
Sellics is mainly an advertising tool for Amazon. Sellics is the most demanded Amazon PPC tool for advertising. With its tools, you can automate the campaign management by either letting Sellics' AI algorithm do the job or setting rules yourself.
Sellics offers you a few advanced features such as smart ad scheduling, target ACoS settings, advanced keyword research, and automatic bid management. Its proprietary AI algorithm quickly evaluates various parameters to help you manage your campaigns.
With Sellics, you can also spy on your fellow competitors and set the metrics in your favor after comparison. This strategy is tailored to help you achieve your specific goals and maximize your revenue.
Sellics Pricing:
Currently, Sellics offers free and two paid plans. The premium plans are paid quarterly or annually. 
Advertising Advisor: $259/month (annually) or $349/month (quarterly)
Managed Services: $1249/month (annually) or $1599/month (quarterly)
4. Zon.Tools
Zon.Tools is an all-in-one Amazon PPC software that is powered by proprietary AI technology. It continuously and automatically optimizes your PPC campaigns which allow you to increase your sales and profits.
Zon.Tools offers enterprise-level features that automate best practices of Amazon-sponsored products and manage your campaign accordingly. Its intelligent engines are so flexible that they can adapt any advertising strategy in an instant.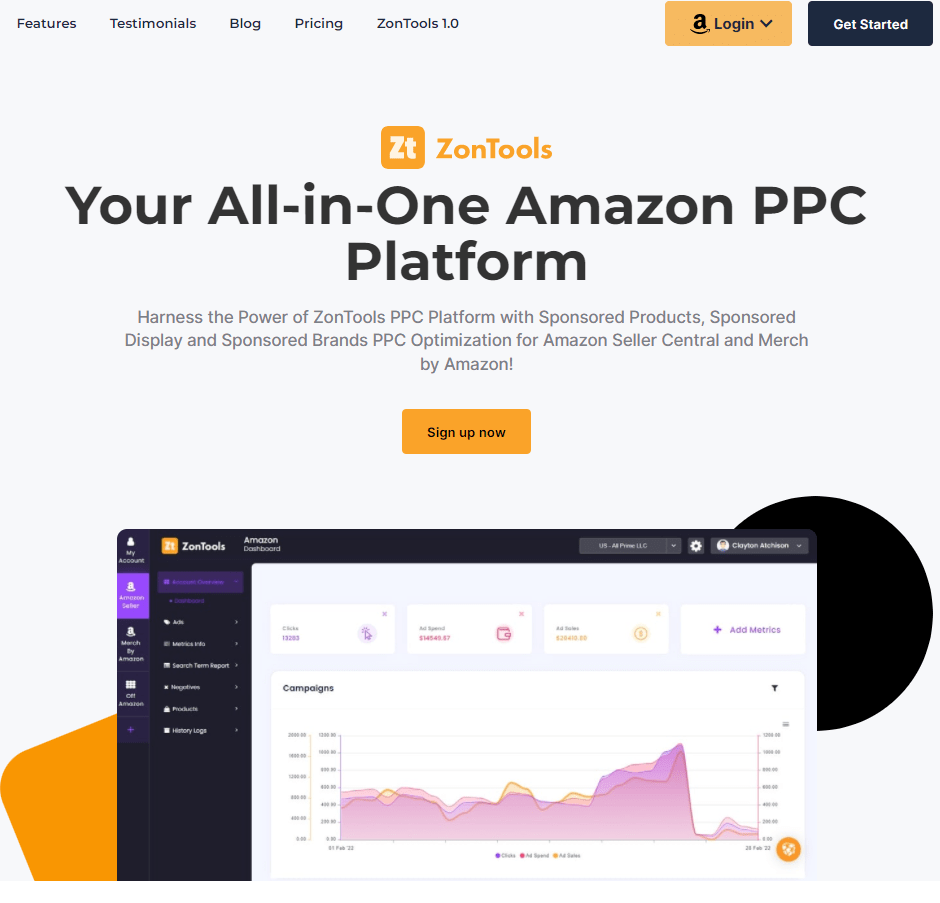 After signing up, you get training and resources that will help you learn how to use the software. But this is not your standard one-touch automation tool because it takes some time to show you the exact increase in ACoS.
Zon.Tools Pricing:
Zon.Tools currently have three paid plans for Amazon sellers. Each plan has a 30-day trial for just $1.
Analyzer: $9/month
Masterer: $19/month
Dominator: $25/month
5. Ad Badger
Next on our list of Best Amazon PPC Software is Ad Badger. It is a powerful Amazon PPC management tool. Ad Badger's toolsets are so handy that a beginner can easily use them to lower ACoS and increase their revenues.
With Ad Badger's automated tools, you can manage and monitor your Amazon PPC campaigns. No matter what the market circumstances are, the software always makes sure you have the correct bid. You can manage things manually if you don't want to automate, such as bids, keyword research, and ad scheduling.
Its negative keyword finder automatically scans all the inefficient keywords in your campaigns and automatically adds them as negative keywords. This way, you can stop investing money on those keywords that don't help you in conversions.
Ad Badger Pricing: Ad Badger's pricing starts at $107/month. They also offer a free trial. 
6. Kinetic PPC Tool By Viral Launch
You want to know more about Viral Launch. Well, check our detailed Viral Launch Review here.
Kinetic PPC by Viral Launch is a popular Amazon PPC tool for beginners. It offers you automation features to give you more control over your campaign and set customizable rules to get the highest returns.
It also gives access to additional data that helps you analyze your campaigns deeply. This way, you will know what impacts your campaign the most, so you maximize your profits. You can also get access to advanced features such as campaign management, keyword monitoring, creating automation, tracking changes, etc.

The PPC tool instantly complies with comprehensive strategies that efficiently drive PPC profits and improve organic rankings and sales.
Kinetic PPC Tool Pricing: Currently, Kinetic PPC is available in the Pro Plus Ads plan of Viral Launch. It costs you $199/month or $166/month if you pay annually. With an annual plan, you will also get two additional months free. 
If you are willing to choose Kinetic PPC by Viral Launch then save a few bucks on your purchase with the exclusive Viral Launch Coupon Codes here.
7. SellerApp
SellerApp is an all-in-one platform that also features Amazon PPC tools. The tool optimizes and automates your PPC campaigns through AI algorithms. This feature also helps you lower your ACoS to boost sales.
SellerApp's PPC tool works in a sequence and finds the key points that impact your PPC campaigns so you can make necessary decisions. It has a feature that detects the top-performing keywords from your auto campaign. You can use this feature to convert into a manual campaign.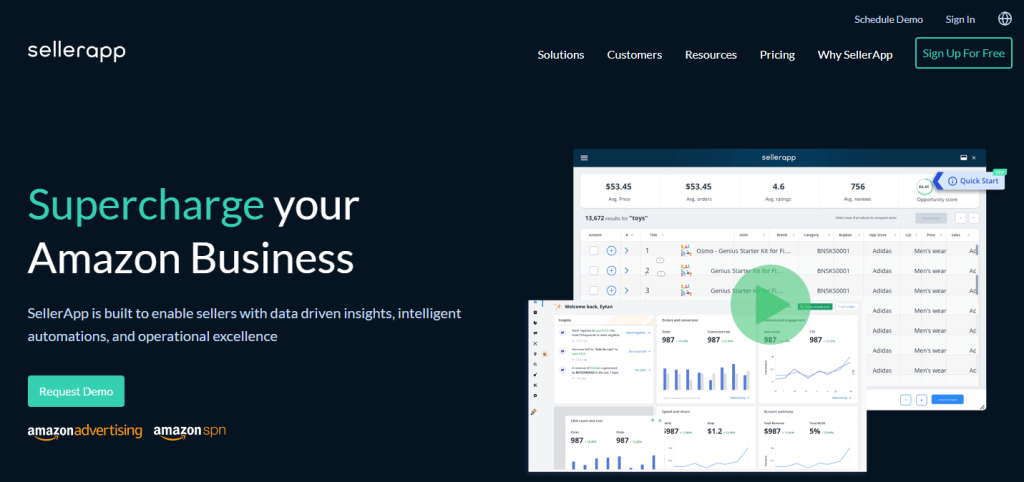 The dashboard summarizes all the key metrics and shows every crucial data in an instant. Like other top Amazon PPC tools, it has a negative keyword finder that finds the worst performing keywords from your campaign.
SellerApp Pricing:
SellerApp has free and two premium plans at the moment. The premium plan also comes with a 7-day trial. 
Pro-Lite: $49/month or $39/month (if paid annually)
Professional: $99/month or $79/month (if paid annually)
8. Teikametrics
If you want dedicated and simple Amazon PPC software, then Teikametrics is the best solution for you. Most Amazon seller tool focuses on providing all-in-one solutions for the sellers, but Teikametrics fully focus on Amazon advertisement. With the help of this tool, you can easily set up your campaign, manage your keywords, automate your bid management, and even the AI of the tool capture optimization decision for you.
Teikametrics helps you to create your entire sponsor product, which is campaigned for you automatically. This campaign depends on the goal that you have set up and the product's life cycle. The algorithm of Teikametrics identifies which bid offers the best performance and price based on your goal.
Teikametrics Pricing: Teikametrics offers only one type of pricing plan that charges you 3% of monthly spend ads on Amazon, and also, you have to pay $0.30 per tracked search term on your market intelligence. 
9. PPC Scope
It is an optimization process, which is highly reliable for campaigns. Many agencies around the world use this Tool. PPC is equipped with preset optimization filters which helps you improve your campaigns and give you better result. You will get a clear idea about how your campaigns are going, if they are under performing than you will be notified and then you can change it accordingly. You can view all the important aspects at one place like ad groups, keywords, Campaigns and much more. Your data history will grow and eventually help you on a longer run. It is compatible with seven Amazon marketplace.
PPC Scope Pricing : Pricing for PPC starts for $19.99 реr mоnth to $84.99 реr уеаr.
10. Downstream
It's your one stop destination for your eCommerce data & Amazon advertising. The AI Automation works 24 hours to reach your target, keep it competitive, and keep your ad budget more intelligent. Downstream takes your raw data and makes it better for you so you can save time and create a better strategy rather than wasting time on unnecessary things.
Shelf Intelligence allows you to track your position in the market. You will gain insights, see the trends activity. It's recommendation serves up intelligent campaign, which helps you maximize the results.
Downstream Pricing:
To know the pricing for Downstream, you will have to contact the sales team or request for the demo, In order to know the pricing for Downstream.
Features to Look for in An Amazon PPC Tool – Best Amazon PPC Software
While you're looking for Best Amazon PPC Software, there are a few things to look for.
Well-organized Metrics Dashboard: You must keep track of your fundamental metrics in this fast world of Amazon PPC. An ideal Amazon PPC software must have a comprehensive metrics dashboard to check how your campaigns are performing. If the RoAS is too low or ACoS is too high, the dashboard must show these measures in an instant so that you can take the necessary steps for solutions. 
Powerful Keyword Research Feature: Keyword Research is one of the core factors to run a successful Amazon PPC campaign. The tool provides such keywords that your customers are looking for, and you can optimize your campaign with those keywords. The advertisement will make sure your item appears after searching for those keywords. 
Wide Marketplace Availability: If a tool offers marketplaces beyond Amazon, it would be a cherry on top. At some point, if you decide to expand your business, you don't have to switch to other tools. 
Automation Aptitudes: It doesn't matter if your PPC campaign is AI-driven or based on your rules; it must automate your workflow, so you don't have to always keep an eye on it every time. 
Free Trial Period: A reliable PPC tool usually offers a free trial or money-back guarantee to test their software for once. 
Reliable Customer Support: Sometimes, you experience a few issues while using the software. So they must offer reliable customer support so you can fix your problems as soon as possible. 
Training and Resources: An ideal Amazon PPC software offers free training and resources such as demo videos, webinars, and documentation. It helps you understand the tool and how things work if you decide to use it. 
Related Read:
Conclusion: Best Amazon PPC Software (2023)
So this is my hand-picked list of Best Amazon PPC Software. Each software is able to help you save tons of manual work by automating your campaign. The tools are either driven by AI algorithms or rules-based but provide almost similar features.
Beginners can go for Kinetic PPC by Viral Launch since it has some user-friendly features. Adtomic by Helium 10 is one of the best in the business because it has some advanced features for professionals. But in the end, it all depends on your requirements. You can choose the one that suits you best.
Latest posts by Brian Williams
(see all)