Today, the eCommerce business is thriving all over the world. Where new online retailer websites are trying to set up their businesses, Amazon and eBay are already at the top of the food chain.
Amazon and eBay have been on the web for decades. Over the years, both made a lot of customer base around the world. Amazon is still on top as the biggest online retailer in the world, while eBay comes in third after Walmart. I have already done an Amazon vs Walmart comparison before this one.
In this post, I am going to compare between two biggest online platforms – Amazon vs eBay. Let's see why both platforms are placed against one another.
Amazon vs eBay: An Overview
There's no doubt that Amazon and eBay are the largest and most reliable companies in the world. But compared to Amazon, eBay is relatively a small company. eBay didn't evolve much from the beginning. That's why the difference in total GMV (Gross Merchandise Volume) between both companies is 480 billion in 2021. More than 60% of Amazon's GMV came from third-party sellers.
About Amazon
Amazon is an American e-commerce multinational company that holds the title of the world's biggest online retailer. The company started as a bookstore in the late 90s. A few years later, they expanded their services beyond books and started offering convenience services. Now, the company offers electronics, digital content, computer service, and daily-life products. In 2021, Amazon's net sale was $469.81 Billion, and no other company is even close to this margin.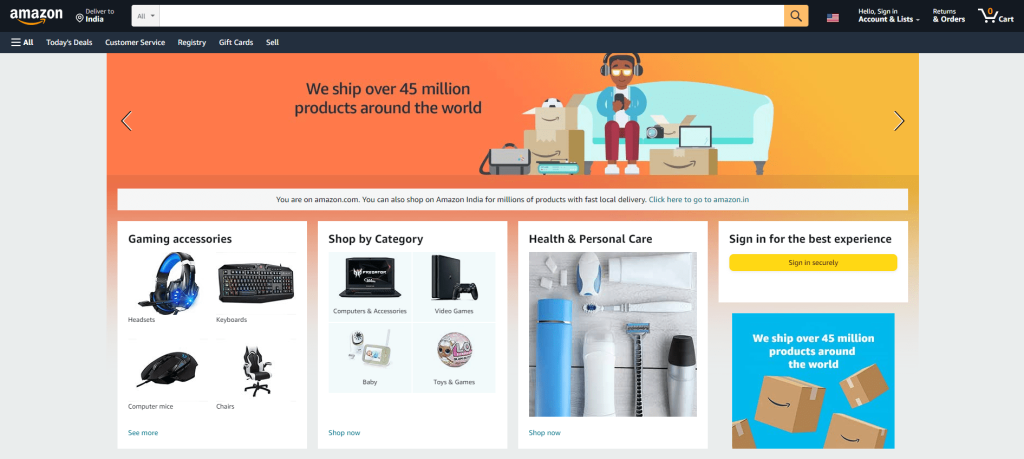 Most of the revenue of Amazon comes from third-party services, commissions, and fees. They don't sell stuff on their own. Rather than that, they offer a marketplace for both buyers and sellers.
About eBay
eBay is also an American multinational online shopping site best known for its auction system and C2C (customer to customer) sales. It is also a reliable platform for merchants to use as a sales channel. The platform involves multiple shopping options, advertisements, and tickets for events in its business. In 2021, eBay's net revenue was $2.5 Billion.

The platform helps individuals buy and sell services & goods across the globe. Most of eBay's revenue comes through transactions across its platform and by advertisement & marketing services.
Major Difference : Amazon vs eBay
Amazon and eBay are both reliable platforms for secure online shopping. But there are a few differences that set them apart.
Market Size
In 2021, Amazon's customer base increased from 14% to 20% of the global e-commerce market. 40% of the market share comes from the USA. The company receives more than 2.5 billion visits per month across all devices. 40% of the customers use its premium subscription, Amazon Prime.
The premium subscription gives many advantages, such as free and fast shipping, exclusive shopping options, and a top-notch streaming platform (movies, TV shows, and music).
On the other hand, eBay only holds 5% of the market share in the US e-commerce market. The monthly visits to the platform are around 170 million. On this platform, people are often picky. They love to buy from the best-rated suppliers.
Fulfillment Options
Currently, Amazon has two fulfillment options for its sellers, FBA and FBM. FBA (Fulfillment by Amazon) is a service offered to sellers for their convenience. With FBA, sellers get access to Amazon's biggest logistics network.
Sellers can grow their businesses without worrying about storage, picking, packing, or shipping. Amazon charges a fulfillment fee per item, which can vary depending on the products.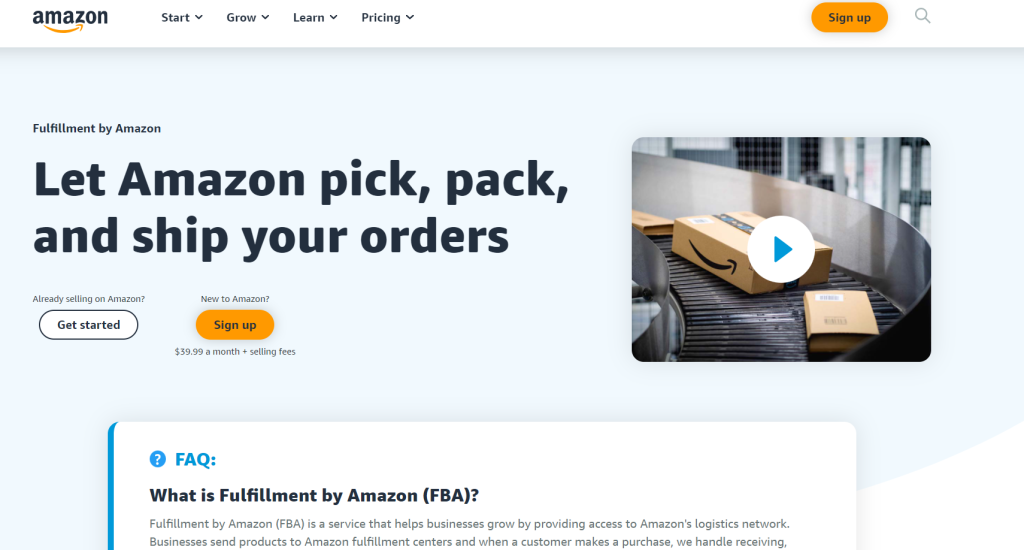 On the other hand, FBM (Fulfillment by Merchant) sellers take full control of the entire fulfillment. They might avoid paying service fees, but they have to use their own resources to ship the products directly to the customer's doorstep.
Like Amazon, eBay also offers fulfillment services to its merchants. They handle your inventory at an affordable cost, including picking, storage, packing, and shipping orders. eBay started a managed delivery service in the US in which customers can customize their shipping on their terms.
Sellers Fees
Amazon offers two account subscriptions to the sellers while registering – Individual and Professional. Using an individual seller account will cost you $0.99/sale, while a professional seller account's subscription fee is $39.99/month.
Professional account users can compete for the Buy Box and run PPC ad campaigns. Amazon's referral fee also varies depending on the category. It ranges between 8% to 15%. You will be additionally charged for media products as a closing fee.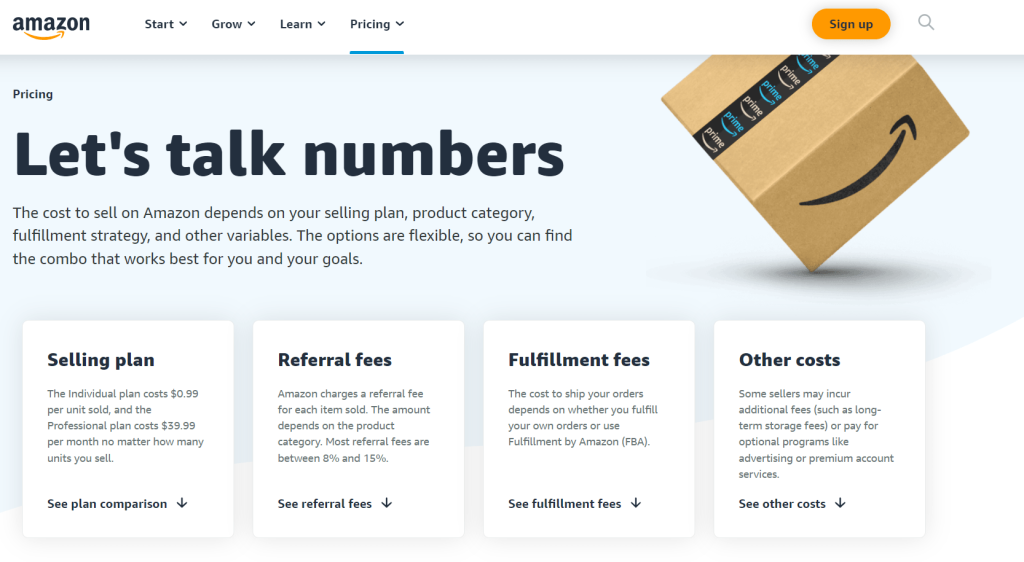 The insertion fee on eBay is $0.35 per listing/category. eBay's basic seller account cost is $28/month which includes 250 listings for free. The Anchor Store plan of eBay ranges between $28 to $350 per month. Each Anchor store plan has its own monthly listing allowance.
The closing fee of a product is typically 10% of the product's price, but it can vary depending on the category. If you're using PayPal services, the service fee will cost about 2.9% of the product's price + a $0.30 flat fee.
Competitiveness
Due to the high demand of Amazon, there is a lot of competition going on among sellers. That's why new sellers find difficulty in their first few months. Every seller's goal is to offer a single listing for each unique product. No matter how many sellers are in a catalog, the buyer will always find your products. You can also give a good competition by providing high-quality, low price, guarantee, customer satisfaction, etc.
You will find the same competitive environment as Amazon on eBay. Due to less audience, you might face less competition, but it will not going to be easy. To overcome your competitors in a category, you must outrank their listings and provide better services and quality. Keyword research and product description also play a vital role in your success.
Selling on Amazon vs eBay
Selling on Amazon is a little bit easier, but payments are received in 14 days. But on eBay, you will get various options for selling and easy payments. Let's have a look at the differences between selling on both platforms.
Selling on Amazon – Amazon vs eBay
You can start selling your products on Amazon by following the five simple steps.
1. Open a seller account:
Before launching your store, you must open a seller account. You will need to provide basic information and have to choose your subscription plan. After that, you can select your fulfillment program as FBA or FBM.
2. Register your brand:
Before beginning the enrollment process, make sure to register your brand with your logo marked on each product. After that, you can start the enrollment process by choosing the marketplace where you want to sell your products. You must have an active or pending registered trademark in that country.
3. Register products:
You must register your product by uploading the products with a unique SKU on each. You may have to provide the numbers of the products you got in your inventory.
4. Customize your store:
Once all your products are registered, you can customize your storefront according to the product's category.
5. Submit for a review:
In the final step, you must submit your storefront for a review. If the review team gives you approval, your products will start appearing on Amazon within a few days.
Selling on eBay – Amazon vs eBay
eBay offers two selling formats to their sellers – Auction-style selling and Fixed-price listings. You can start an auction by listing an opening bid in auction-style selling. The auction remains on the platform for a number of days. The buyers start bidding on the opening price and at the end of the auction, whoever has the highest bidding, wins the auction.
The Fixed-price listings, aka the "Buy it now" system, enable the seller to set a fixed price for a product.
Opening an eBay store is almost similar to Amazon.
1. The Basics:
You have to go through a similar registration process like choosing the account type, business model, fulfillment services, etc.
2. Set up your seller account:
In this section, you have to choose the marketplace and payment method.
3. Product Research:
After setting up your account, do the regular product research practice and register your brand and products. Don't forget to mention your sourcing of the products.
4. List and ship your products:
Once you go through all the necessary processes, list your products and start selling on eBay.
Amazon vs eBay: Which One is Easier?
As you can see, eBay offers more straightforward selling and receiving payment methods. It is also fast than Amazon. You can list your products within minutes, and after successful sales, the money is instantly deposited into your account.
On the other hand, Amazon offers a lot of payment options, but the payments are received in your bank account within 14 days. While starting your store, you may have to go through a lot of complex procedures. Since Amazon has a large audience, it may offer you better chances of generating revenue.
What Should I Sell On Amazon And eBay?: Amazon vs eBay
When it comes to selling products on Amazon and eBay, you will find similarities. eBay doesn't have any restriction like Amazon have. Amazon has 40 categories, but 23 are unrestricted and are required permission to sell them. These categories are known as gated categories. The other 5 categories have some restrictions which depend on the type of product. Some categories are seasonal restrictions like games and toys over Christmas time, mainly to avoid the rush on substandard products.
eBay doesn't restrict any categories. Instead, it has a list of restricted products. So you need to check the list of restricted products and categories before choosing the platform on which you want to sell.
Amazon vs eBay: Pros & Cons
Despite being the oldest online retailer in the world, both Amazon and eBay have their own advantages and disadvantages.
Pros & Cons of Amazon
Let's Look at the Pros & Cons of Amazon
Pros
Let's look at the Pros of Amazon
A reliable platform for buyers
Branding opportunities
High reach
Easy fulfillment services
Biggest customer base
Easy to start as a seller
Cons
Now, let's look at the Cons of Amazon
High fees and additional charges
High competition
Less visibility due to high competition
Pros & Cons of eBay
Selling on eBay is way easier than on Amazon. Since most of the sellers and buyers are familiar with eBay, the search engine makes it easier to find whatever you are looking for.
Pros
A quick look at the pros of eBay
Easy product listings
Less competition
High chances of product visibility
Customer loyalty
Worldwide reach
Easy setup
Cons
Let's look at the Cons of eBay
Small audience
No fulfillment service 
Variable fee structure
Related Read:
Conclusion: Amazon vs eBay (2023)
Over the years, Amazon worked on expanding its marketplaces globally, but eBay tried to simplify the method of selling on the platform. Overall, Amazon scores better on customer loyalty, lower fees, fulfillment services, and branding opportunities. And eBay scores better in easy UI, low competition, and fewer restrictions.
But why limit to one platform when you can use both platforms to sell your products. You cross-list your products on both platforms and use Amazon's MFC (Multi-channel fulfillment) service to sell your products. This way, you can open more earning opportunities and scale your business.
FAQs: Amazon vs eBay
Is eBay Safe?
eBay is very safe considering an ecommerce website. It has money back guarantee and also protects the use of the credit card.
Which One is Cheaper? Amazon or eBay?
There's only one answer for this and its eBay. eBay charges 9.15% for a standard account compared to Amazon which charges 15%.
Who Has More Users?
eBay had 138 million users in 2022, compared to 182 million users in 2021. Which is a decline about 13%. On the other hand, Amazon has 310 users in 2023.
Latest posts by Brian Williams
(see all)